Sailwider's energy monitoring system is developed to monitor and manage the electricity power using in a certain place or circumstances, such as a house, a building, a factory or an exhibition hall. We have different versions of products specifically for individual families and big projects. We also have advanced system to provide solution for complicated lighting system. Our smart products are simple to install and very convenient to operate and can be popularized easily. The notion of energy-saving, green life and convenient operation is becoming more and more stronger in the world, our smart solution is just to meet this demand perfectly with low cost.

Our energy monitoring and control system can be integrated with home solar monitoring function, which is a perfect and very useful solution for homes installed with home solar plant. Our products are also being integrated directly with smart meters and solar inverters, that's what we are doing for some world brands. We are in a good position to provide in-home display (IHD) based on various communication interfaces (such as RS-232, 485 and etc.) and different communication protocols, including 433MHz, Mbus, ZigBee, and etc.

We are the original developer and manufacturer for the 1-way and 2-way electricity energy monitoring and controlling system with strong R&D background and rich production experience. We have rich experience in providing customized service for the world brands. If you are looking for a reliable supplier in this field, you really can't miss us.
Can be integrated with Home Solar Plant Monitoring Function
Can be integrated with Home Solar Plant Monitoring and Control Function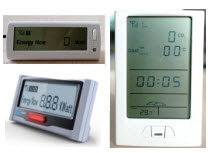 The 1-way wireless home electricity energy monitor is for monitoring purpose with low cost. It provides real-time, prompt and convenient feedback on electrical energy consumption.
With developed function, it can also be used to monitor the home solar plant production and home electricity consumption....more
The 2-way electricity management system not only monitors but also send instruction to the sensor sockets to realize remote control of the connected appliances.
With developed function, it can also be used to manage the relationship of home solar plant production and home electricity consumption....more